Yoga is an ancient form of exercise and it can play a major role in redefining your mind, body and soul. The word 'Yoga' has derived from the Sanskrit word 'Yug' which refers to the union of our individual consciousness and the universal consciousness.
In Indian practice yoga is associated with not just the physical well-being of the body, but with the overall health of a human being. Yoga is a holistic package, which unlike other physical activities aims at cleansing the human body from outside as well as within. The practice as a part of the everyday routine can make a difference to you – mentally and physically. And as an added bonus, it can be used for bringing about weight loss and strengthening your muscles.
A number of people can numerous apprehensions and perceptions associated with yoga. Some may think that is all about stretching your body while some may take it as a power exercise. The reality is that it is the best form of exercise that can bring about tranquillity, introspection and stability in one's life along with inner strength. There are numerous examples of patients who have been cured of numerous diseases, back pain and ailments by practising yoga.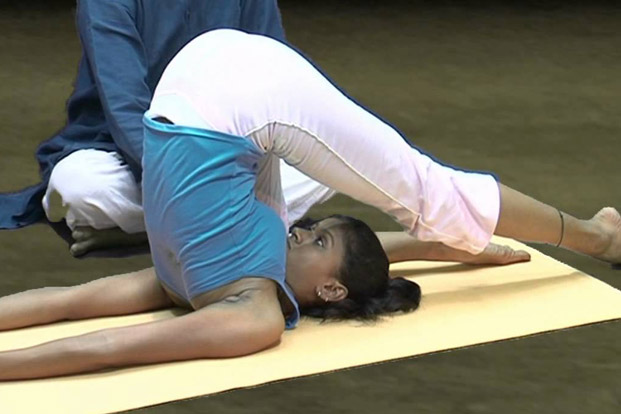 Yoga for Weight Loss:
It is important to understand, the various factors that contribute in weight gain. Yoga is the art of breathing and exercise. It aims at cleansing, balancing and rejuvenating our inner organs and their functions. Many exercises and asanas are helpful in increasing the metabolic and heart rates of the body thereby ensuring that the body remains fit. Hence immunity, vitality and inner strength are the core aspects associated with yoga that together can ensure weight loss.
Weight loss is all about 80% of eating habits and 20% of working out.
Be regular in your yoga practices.
Opt for a specialist for your yoga training.
Be 100% with the food on the dinner table. Avoid watching T.V or chatting while eating and have a balanced diet.