Cleanliness is very important for keeping diseases at bay. So it is essential to inculcate good hygienic habits in children right from early childhood. Hand washing is one of the best ways to reduce the spread of disease.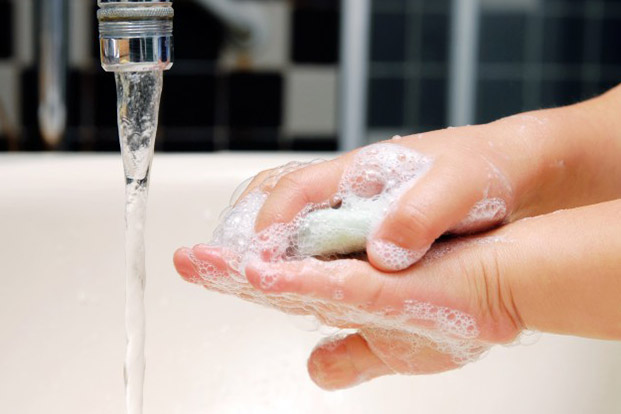 Use liquid soap. Don't use soap bars because it may collect germs from previous users, which can be spread to other user. Antibacterial soaps are not necessary always effective.Most children seem to like liquid soap which makes them more likely to use it every time they wash their hand.
Use warm running water. Cold water is less effective at removing germs than warm water. Because water must not have temperature of more than 48 °C.
Scrub hands for around 20 sec. Scrubbing hands together helps remove germs more effectively. Make sure children scrub their hands well and have the soap in between fingers, under the nails, where germs like to hang out. Don't forget to scrub your wrist.
Parents can make hand washing more fun by encouraging children to sing songs or rhymes. This is important as many find hand washing a mundane activity.
Hand washing is essential after activities. Hand washing should be done after using the bathroom, after playing, before eating, after sneering, after petting the animals. Use disposable, single use towels. A shared hand towel use is discouraged. Disposable paper towels are best to use.
Limited use of Hand Sanitizer. Hand sanitizer should only be used sparingly, when water, soap is not available. Hand sanitizer should not be used by children who are less than 2 yrs only, as it contains alcohol. It can be hazardous if the child puts his hand in his mouth. Keep all sanitizers out of reach from children.
Proper hand washing should begin in infancy. As an infant grows encourage them to begin washing their hands independently. A step stool may be used to help raise children to the sink level and keep children under observation all time.
Just remember one thing when you are teaching your child, child imitate others, especially their parents. So don't do opposite when it comes to you, otherwise children will not able to catch the right practices.
Child will learn and develop the habit of cleanliness effectively when you will apply it perfectly.