Kidney cancer represents approximately 2% of all malignancies. The median age at presentation is 65 years and about 30-40% will have metastatic disease at the time of diagnosis. Clear cell histology is the most common type and is seen in 80% of RCC. The common sites of metastasis include lung, bone, liver and CNS. Surgery in the form of cytoreductive nephrectomy can be considered in selected group of patients with metastatic disease.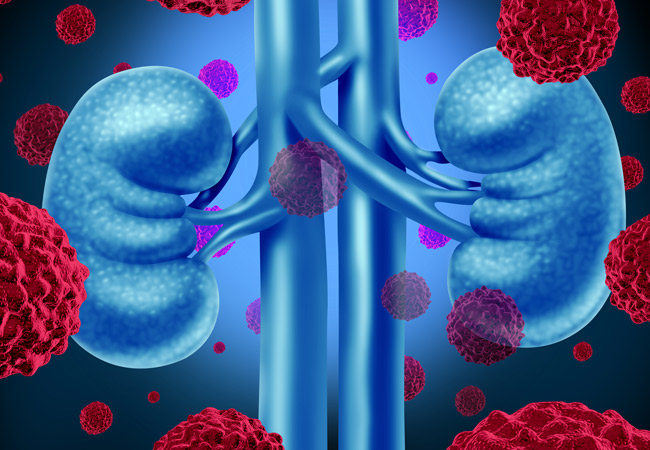 However, many patients are not eligible for this and systemic therapy remains an important part in the management of metastatic renal cell carcinoma (mRCC). There has been prognostic scoring for mRCC like MSKCC and IMDC. Historically treatment of mRCC comprised of conventional chemotherapy like 5 Fluorouracil and Gemcitabine with a dismal response rate and survival. Immune therapy in the form of Interleukin and interferon were also tried with modest benefit. However the toxicities of these drugs were difficult to manage and only highly selected group of patient with very good performance status could receive these therapies. Then came the era of targeted therapies in the form of small molecule tyrosine kinase inhibitors (TKI). Now, we have many TKIs which have been approved by FDA for use in mRCC. The most commonly used drug is Sunitinib which has shown a survival of more than 2 years in mRCC patients. Other drugs which are relatively new includes Pazopanib, axitinib, cabozantinib, and lenvatinib. The mTOR inhibitors evelolimus and temsirolimus can also be used in mRCC. Although these drugs have shown promise in treating mRCC, toxicity associated has to be taken care of as well. Although most are oral drugs they can cause different spectrum of toxicities including skin rash, diarrhea, fatigue, hypertension, liver toxicity, cardiac dysfunction etc. The latest development in the treatment of mRCC includes the newer immunotherapy molecules. These include molecules which boost self immune system to destroy the tumor cells selectively. They usually act by modulating PD-1, PDL1 or CTLA-4 receptors which are present on either tumor cells (PDL1) or the T-lymphocytes (PD1 and CTLA-4). Now, molecules like Nivolumab, Pembrolizumab, and Ipilimumab can be used alone or in combination in patients with mRCC. The FDA approval has been based on large phase 3 studies.
It is important to know that although the results look promising; these drugs have got a unique spectrum of toxicities which in worst cases can lead to death also. Almost all organ in the body can have the toxicity caused by immunotherapy drugs. As a medical oncologist, it becomes very important to know these toxicities and manage accordingly. Moreover, the response assessment criteria for these immunotherapy molecules are not the same as for conventional chemotherapy drugs and can lead to confusion among many. There have been a tremendous advancement in the management of mRCC in recent years and future prospects look very bright with many studies underway with novel molecules.