From the time of diagnosis of cancer and throughout the treatment period, the patient and his/her family experiences a wide range of feelings, undergoes physical and emotional trauma and recuperation at every step. He/she experiences varying degrees of depression and the feeling of anger, guilt and fear.
In cancer – self image is important:
Cancer treatment affects the self image of the patient. This is especially noticed in females because of loss of breast (in case of breast cancer) and in males because of deformity of face (in case of oral cancer). Other complications such as loss of voice in laryngeal cancers, also adds to mental issues. Permanent stoma's (colostomy, jejunostomy, ileostomy, ilial conduits) also lead to to worsened self image, low esteem and anxiety.
Fear is the biggest enemy:
Other common themes are fear and anxiety and possible recurrence of disease, further surgeries, chemotherapy and possible death. Concerns regarding the family, financial instability and burdening them with the fear of cancer are also concern issues. All those factors lead to fear and anxiety of returning to work and lead a normal life post treatment.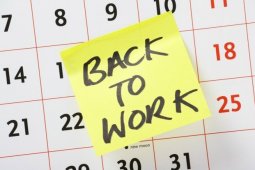 To address the fear of going back to work, a multidisciplinary approach is needed. It is required that we combine rehabilitation with psychiatric and psychological support. Treating oncologists should also be actively involved in the support team as he has been involved in treating the patient for past 6 to 12 months and by this time patient and his family would have developed full faith in him.
Now a days, there are many support (self help) groups of different cancer types like stoma group (colostomy), breast cancer group, cervical cancer groups , childhood cancer groups. Cancer survivor patients should be encouraged to join these groups and participate in their meetings, activities. Seeing similar cancer patients leading a happy, normal life will boost the confidence of these patients. There are many NGO's, societies, working for the cancer patients, and their families for treatment, rehabilitation and family support.
Success & victory is when your life is normal again:
To conclude, returning to work after successful cancer treatment is very tough and challenging- physically, emotionally, financially and socially.
Successful cancer treatment is one aspect but it should be winning over cancer. For the same a team is required consisting of- Psychologists, Oncologists, support cancer group types, NGO's, family, society/community, employer and colleagues.
For the treating oncologist seeing a cancer patient fully cured, surviving and leading a normal happy, joyful life with his/her family and friends is the biggest joy and achievement in his life.