Radiation therapy (also called radiotherapy) uses high energy rays from X-rays, protons or other sources to kill cancer cells. Rapidly growing cells, such as cancer cells, are more susceptible to the effects of radiation therapy than are normal cells.
Two main kinds of radiation therapy for breast cancer are:
External Radiation
Internal Radiation (Brachytherapy)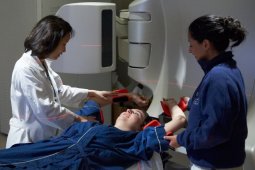 Radiotherapy in DCIS (Ductal carcinoma in situ) or Breast Cancer:
Breast-Conserving Surgery has become a standard treatment option for DCIS or Breast Cancer.
All patients post BCS require:
Whole breast radiation therapy (WBRT). [Trials showed roughly 50% reduction in local recurrence (both DCIS and Invasive)]or
Accelerated Partial Breast Irradiation(APBI)
Very select group of patients can be kept under observation after BCS:
Well-differentiated DCIS, unicentric, <1 cm, Margins >10 mm
Post Mastectomy Radiation in DCIS: In the routine, there is no role except close/+ve margins*.
Partial Breast Irradiation
Partial-breast irradiation is the delivery of radiation to the surgical cavity plus a 1- to 2-cm margin after breast-conservation surgery
Rationale: IBTR occur in the vicinity of the primary
The vast majority of the recurrence (up to 90%) occurs in the index quadrant. Only 1% to 3% recurrence occurs in other quadrants
Recommendation: APBI
Inclusion criteria for APBI: (All criteria should meet)
Tumor Size < 3 cm
Age => 40 years
All IDC and DCIS
Hormone Receptor: Positive/Negative
Histological Grade: Any
Focal LVSI
Node: p N mi/ p N1 (with ALND), Only a selective group
Exclusion criteria for APBI:
Positive margins, Extensive Intraductal Component/ Extensive LVSI, Post NACT ,N2/N3 Disease , Multicentric Disease.
The issue of fractionation (WBRT): Standard or Hypofractionated
No change in the fractionation schedules outside of a clinical protocol
The standard fractionation to continue: 50 Gy in 25 # over 5 weeks followed /preceded by boost (14/4#) by Brachytherapy/electron/photon
Sequencing of CT/RT:
For patients with BCS: RT —> CT+/- HT+/- Targeted therapy
For patients with MRM: CT+/- Targeted therapy—> RT—> HT
PMRT in patients with 1-3 LN +ve:
1-3 LN +ve with high-risk features (Patients will receive chest wall/WBRT + supraclavicular RT):
Young patients (<40 years)*
TNBC Patients
LVSI
Axillary Irradiation
No routine Axillary RT in adequately dissected axilla
Axillary RT to be considered in:
Less than 10 lymph nodes dissected (outside).
N +ve with extensive Extra-nodal extension.

4 lymph nodes +ve after NACT.
Supraclavicular RT in:
Clinical N2/N3 Disease , >4+ LN after axillary dissection ,1-3 LN +ve with high risk features (Young patients (<40 years), TNBC Patients, LVSI
IMN RT
No IMN Irradiation routinely. Can be considered in:
IMN +ve by SLNB, clinically +ve IMN, Isolated recurrence in IMN
Axillary RT in case of SLNB +ve with no dissection: Not recommended.
RT after NACT
All patients planned for NACT (Clinical stage decided by combined team and documented in file clearly)
All BCS patients to receive WBRT+Boost.
Decision for Adjuvant therapy based on initial clinical staging and decision
Pathological CR not to guide radiation therapy
Definitive/PMRT in MBC
PMRT offered to all patients post surgery: Chest wall + Supraclavicular RT +/- Axillary RT
A subset of Patients offered definitive RT:
Inoperable after NACT but still meeting criteria as mentioned
Sub-optimal response to NACT
Patient having good response but not desirous of surgery
Definitive RT volume to include : WBRT + Supraclavicular + Axillary RT