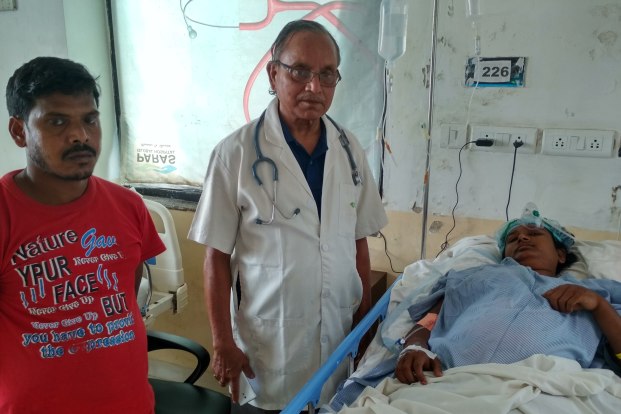 Patna, 22 September : Doctors at Paras Hospital Darbhanga successfully conducted a complex surgery for spinal tuberculosis (TB) on a 32 year-old woman named Poonam Devi.
Poonam was suffering from pain around her waist for the last eight months. The pain was so immense that it percolated to both of her legs and she was unable to walk even. Poonam had also difficulties in urine discharge. Poonam's relatives took her to several places for treatment however all the efforts proved to be unsuccessful.
At last, her relative brought her to Paras Global Hospital Darbhanga for treatment. During investigation at Paras Hospital, Darbhanga it was found that Poonam was suffering from Bone TB in her spinal cord. As undue pressure was being exerted on her spinal cord, her spinal cord had bent forward and also she was suffering from loss of blood.
Taking this as a challenge, famous orthopaedic surgeon of Mithila region Dr R K Prasad operated Poonam and did her spine surgery. The surgery was successful and Poonam is now bereft of pain.
Poonam's relatives are a happier lot now and thanked Dr Prasad for the successful surgery. They said that this complex surgery was only possible at Paras Hospital in the Mithila region.
Dr Prasad said that Poonam will soon start walking and will be alright in a few days. He further said that early diagnosis followed by prompt and adequate treatment can completely cure spinal tuberculosis.