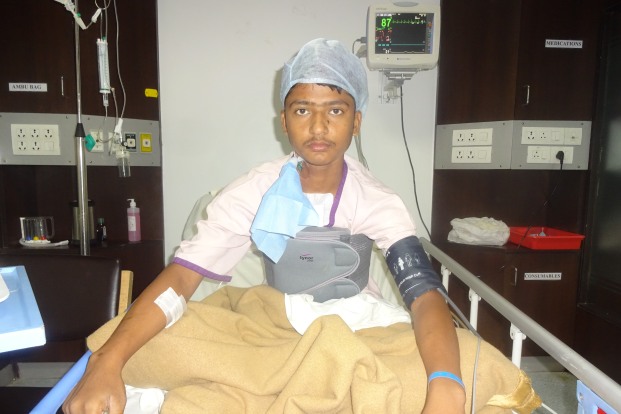 Doctors at Paras HMRI Hospital Patna and Paras Cancer Centre successfully conducted a path-breaking cancer surgery. The oncosurgeons successfully removed a rare variety of Mediastinal Tumor. The tumor was in close proximity to the heart and major blood vessels making the case more difficult to operate. The patient had gone to numerous doctors and hospitals and was denied treatment highlighting the complexity of the surgery. The team headed by Dr Shashi Singh Pawar, Consultant- Surgical Oncology, Paras HMRI Hospital Patna was able to perform the exceptional feat successfully.
Dr. Shashi Singh Pawar is an exceptional surgical oncologist from prestigious King George's Medical University, Lucknow. He has an excellent academic record and has been trained at reputed institutes of India and abroad. Alongwith vast experience in surgical management of complicated cancers he has also been involved in clinical research. Dr. Pawar has presented his seminal work at various national and international conferences. He has been specially trained in Breast & Oncoplastic Surgery at Netherlands Cancer Institute and Cytoreductive Surgery with HIPEC for advanced GI & Gynecological malignancies at National Cancer Institute, Singapore. He has been fellow of European Society of Surgical Oncology & European Society of Medical Oncology.
According to Dr Shashi, "Mediastinal tumors are benign or cancerous growths that form in the area of the chest that separates the lungs. In general, mediastinal tumors are rare. Mediastinal tumors are usually diagnosed in patients aged 30 to 50 years, but they can develop at any age and form from any tissue that exists in or passes through the chest cavity. The location of tumors within the mediastinum varies according to the age of the patient. In children, tumors are commonly found in the posterior (back) mediastinum. These mediastinal tumors often begin in the nerves and are typically benign (noncancerous). Due to their location in the mediastinum, mediastinal tumors (both benign and malignant) that are left untreated can cause serious complications including invading the heart, pericardium (the lining around the heart), and great vessels (the aorta and vena cava). Tumors located in the posterior (back) mediastinum can cause compression of the spinal cord."
He further adds, "In this case also the tumor was positioned very near to the heart and the blood vessels. The wrong nick would put the patient under immediate cardiac arrest and death. He was having difficulty in respiration associated with hemoptysis. However since the patient was young we decided to take up the case to improve his quality of life. It was a challenge and the patient attendants were explained the risks."
The doctors carried out a 4 hours long operation and the patient's tumor was excised from the heart. The patient is now in recovery and his condition is improving every day.