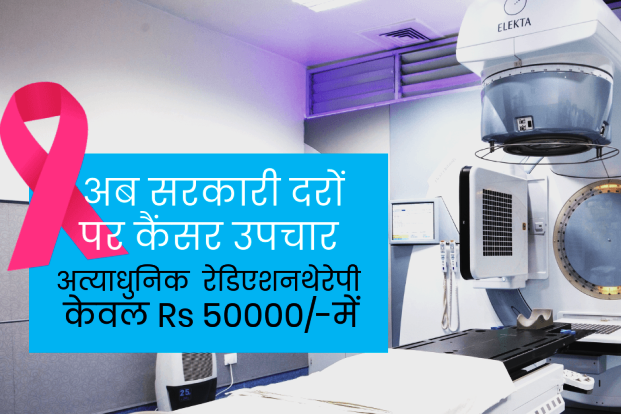 In view of increasing number of cases of cancer, the Paras Cancer Center, Patna has decided to provide cancer radiation therapy on government rates.
The cancer patients can avail latest radiation therapy at Paras Cancer Center @ Rs 50,000.
According to Senior Consultant radiation & Clinical Oncologist at Paras HMRI Hospital Dr. Shekhar Keshri "Cancer is one of the most lethal diseases and radiation therapy plays a key role for its best treatment and the same is used in almost all types of Cancer. Radiation therapy is given in the form of x-ray beams, gamma rays or sub atomic particles. It takes 5 to 10 minutes and is painless." He also mentioned radiotherapy has different methods which are used as per the site & stage of the cancer. At Paras Cancer Center, the following radiation therapy are available: 3D Conformal Radiation Therapy (3DCRT), Intensity Modulated Radiation Therapy (IMRT), Image Guided Radiation Therapy (IGRT), , Volumetric Arc Therapy (VMAT) and HDR Brachytherapy. The most important aim of modern radiotherapy is maximum dose to the tumor to kill all cancer cells at the same site, & minimum dose to the normal surrounding tissue so patient can retain their day to day normal activities as usual. We are happy to share that more than 1500 patients benefited so far with this modern radiotherapy machine at Paras Cancer Center.
According to Radiation Oncologist Dr Sneha Jha, "Many patients go to Jharkhand and Mumbai for cheap treatment of cancer. After the availability of radiation therapy at Rs 50,000 at Paras Cancer Center they can get proper treatment at lower rates. From almost all parts of Bihar cancer patients are coming to Paras Cancer Center Patna for consultation and treatment. This facility has tremendously helped the patients of Bihar."
Clinical Oncologist at Paras Dr Kunal Kishore said , "Paras Cancer Center has become the best cancer treatment centre where more than one lakh per year are provided chemotherapy, cancer surgery, radiation therapy and bone marrow transplant. As per government statistics in Bihar at least 50,000 patients die every year due to cancer of which female patients constitute 59% and male 41 %. The reason for this heavy casualty is lack of cancer specialist, proper treatment and financial burden."