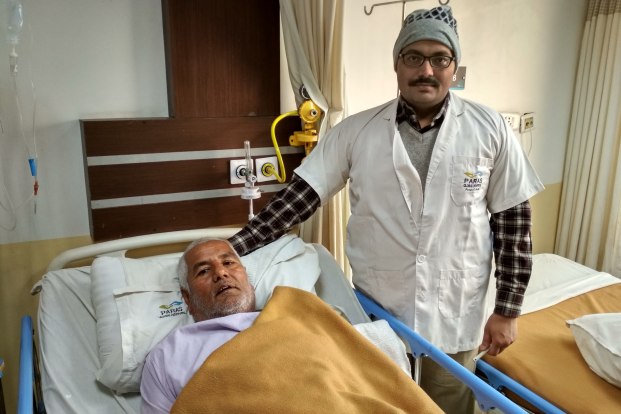 Dr. Sharad Kumar Jha from the Gastroenteritis department saved the life of a patient, suffering from liver cirrhosis
Darbhanga, 12 January 2017: Paras Global Hospital, Darbhanga managed to save the life of 65 yo Abhay Kumar Mishra, who was vomiting blood. The patient's blood started flowing through the veins of the esophagus to his heart because of his damaged liver. This caused swelling of his blood vessels and the clotting of blood in his abdomen in the form of a bunch of grapes. As a result, he was vomiting blood.
Dr. Sharad Kumar Jha, Gastroenteritis Department, Paras Global Hospital, who carried out a successful surgery said, "The patient's situation was critical when he was brought to us as he was throwing up blood. Once the test results came out, it was revealed that he was suffering from liver cirrhosis. Under normal conditions, blood flows from the abdomen and legs through the liver into the heart. However, due to a damaged liver, blood was passing through the esophagus to the abdomen and resulted in clotting. This condition is known as haematemesis. The patient had lost almost 3 liters of blood due to vomiting. Consequently, two units of blood were transfused into his body. He was given GI endoscopy injections, after which his condition improved. The patient had to stay in the hospital for around a week and he is now recovering fast.
Dr. Jha concluded saying, "Had the patient not been brought to the hospital, his life could not have been saved. Since he was vomiting blood, he had suffered severe blood loss, which would have proved fatal."