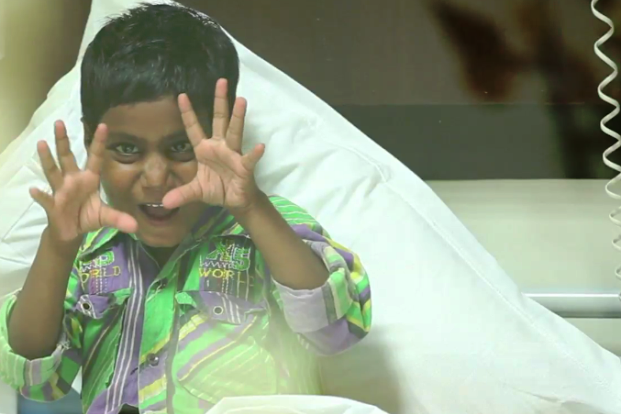 Hospital's neurosurgeon Dr. Mukund Prasad surgically operated a tumour; child was given chemo and radiation
A tumour called Medulloblastoma was found in the child's brain; tumour with size 4-5 cm was taken out with great caution
Patna, 08 November 2017: PARAS HMRI super specialty hospital located at Raja Bazaar, Patna helped cure a 7-8-year-old child of his cancer tumour. The child was provided with free treatment. Pravin, who'd lost his parents at an early age, often complained of a headache and nausea. He was also unable to eat properly. Despite consulting several doctors at both private and government hospitals, his situation did not improve. The child's relatives brought him to PARAS Hospital where the neuro physician referred him to Dr. Mukund Prasad, Neurosurgeon at Paras HMRI Hospital. Post-diagnosis it was revealed that the child had developed a tumour called Medulloblastoma and its treatment would be expensive. Since it was the case of a child, who had no one to look after, the matter was taken to the hospital's senior authorities, who then decided to provide free treatment to him.
After getting a go-ahead from the hospital's senior management, Dr. Prasad operated the child to remove a tumour completely, which was followed by chemotherapy and radiation. The child is now free from cancer and is healthy. According to Dr. Prasad, "I had to be very careful while treating the tumour since it was 4-5 cm in size. Any mistake on my part could have resulted in pneumonia or difficulty while breathing and inability to eat food. However the use of modern equipment and the best of facilities at our hospital, the operation was successful. Within 15 days of the surgery, the child was able to eat everything of his choice. The hospital authorities also made sure that the kid who had no money to buy his medicines did not have to worry about them. A tumour is considered dangerous as there are chances of its recurrence among kids. However, Pravin's case is a bit different as he has been cured of a tumour and is not likely to suffer from the same problem again."