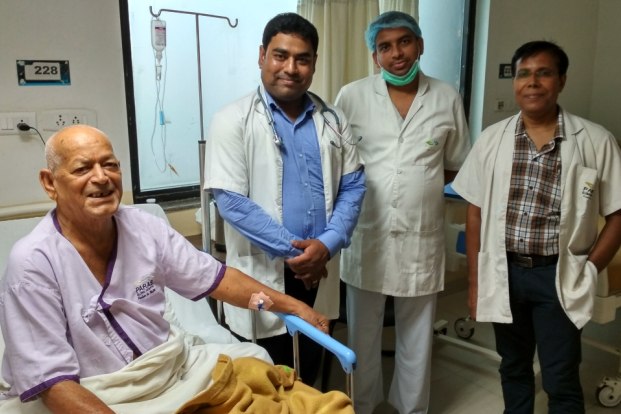 70 year old retired professor of economics, Dr R K Jha came to Paras hospital Darbhanga with Filarial scrotum and bilateral hydrocele causing difficulty in his daily life and he was unable to lead a quality life. Additionally, he already had poor myocardial function i.e. (EF= 30%) along with hypertension.

Prior to his surgery, on pre-anesthetic check up the patient was found to be suffering from heart failure. Upon angiography performed by renowned cardiologist Dr Jyoti Prakash Karn, it was found that his heart had a 90% blockage in right coronary artery. The Patient underwent treatment for heart failure under Dr J P Karn. Dr. Jyoti Prakash Karn is a reputed interventional cardiologist from the prestigious GB Pant Hospital, New Delhi.
Then Patient was taken for surgery and was informed about high risk due to co-morbidity and consent was taken for the same.
The surgical procedure was done by renowned general surgeon Dr A K Jha under general anesthesia for 2 hours under the supervision of Anesthetist Dr Pankaj. According to Dr Pankaj, the patient was not taken under nerve block due to large scrotal size and difficulty in positioning the patient. Regional anesthesia Could cause unpredictable haemodynamic change so general anesthesia was preferred . As per the doctors, the advanced equipment, skilled OT team and advanced ICU backup needed for such type of anesthesia is available in Paras hospital Darbhanga. The advanced setup at Paras helped doctors a lot. The surgery was successful and the patient is now relieved.
Professor R K Jha said that "I had been to several hospitals and doctors earlier, but everyone rejected my case as I also had 90% blockage in my heart and I am hypertensive. I am highly grateful to the team Paras Hospital and its wonderful doctors for relieving me of this intense pain and inconvenience I had been suffering for long. I had these positive vibes and hope since the day I came to Paras that I may be soon cured. The doctors have given high priority to my case and been very thoughtful to plan my treatment.