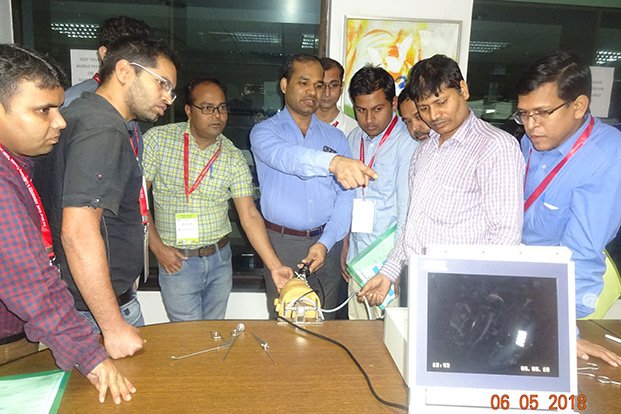 Patna: Paras HMRI Super Specialty Hospital, Patna organized a workshop on live knee surgery of arthroscopy and osteotomy which was attended by 80 eminent doctors of Bihar and Jharkhand including the doctors of PMCH, AIIMS Patna, IGIMS and NMCH. From the Paras HMRI Hospital , the orthopedic department head Dr John Mukhopadhyaya, Dr Arvind Kumar Gupta also conducted live surgery and demonstrated the latest techniques in Orthopedic Surgery to the participants.
Dr Mukhopadhyaya one of the leading orthopedician of the country highlighted the expertise of knee surgery, Dr Gupta conducted operation of the ligament. Dr I P S Oberoi from Delhi conducted operation of the knee's meniscus and cartilage and Kolkata's Dr Vikas Kapoor and Dr Rajiv Raman held operations of ACL Reconstruction and MPFL Reconstruction respectively.
On the occasion, Dr Mukhopadhyaya shared, "People generally develop knee pain in 42-45 years of age which leads to bending of the knees. If it is corrected timely then the person could escape the ailment."
Dr Gupta highlighted, "The issues like problems in going up and down the staircase, knee pain and locking in the knee are symptoms of problems with the ligament. Operations of the ligament through a microscope can cure these ailments." Dr Oberoi said if the knee is locked with severe pain it should be operated with minimal access surgery method else it could lead to arthritis.
Dr Anup Kumar and Dr Sudip Kumar of Patna AIIMS, Dr Manish Kumar of IGIMS, Dr Rakesh Choudharyn of PMCH, Dr Rajat Mani of NMCH besides Dr Mahesh and Dr Gurudev Kumar also attended the workshop.